This page describes one of Optoplex's innovated products, a 90deg optical hybrid integrated with balanced photo-receivers, which can be used in optical sensing applications, particularly the coherent Doppler wind LIDAR (light detection and ranging).
Coherent detection has been widely found in applications for RF and optical communications. In the past few years, coherent technology has been advanced dramatically in high-speed optical communications. With this advancement, key parts and components are commercially available and cost-effective for many applications beyond telecommunications, such as narrow linewidth lasers, optical hybrid, balanced photo-receivers, and DSP, etc.
High-performance 90deg optical hybrid is an important part in optical coherent detection. Optoplex's free-space, micro-optics-based, and passive 90deg Optical Hybrid is a mixer in coherent detection and has been widely used in both 40Gbps and 100Gbps coherent transmission systems in optical communications. In addition to 90deg optical hybrid, 2x4 coherent mixer and 2x8 coherent mixer, Optoplex has developed and supplied integrated 40G and 100G coherent receivers as well.
In Doppler LIDAR applications, 90deg optical hybrid is a must-have component. Compared to conventional mixer using fiber optic couplers, it won't be able to provide information about wind vector. While, because 90deg optical hybrid provides the 90deg phase information between I- and Q- paths, it can yield to the wind vector information.
Figure below illustrates the functional block diagram of the integrated 90deg optical hybrid with balanced photoreceivers.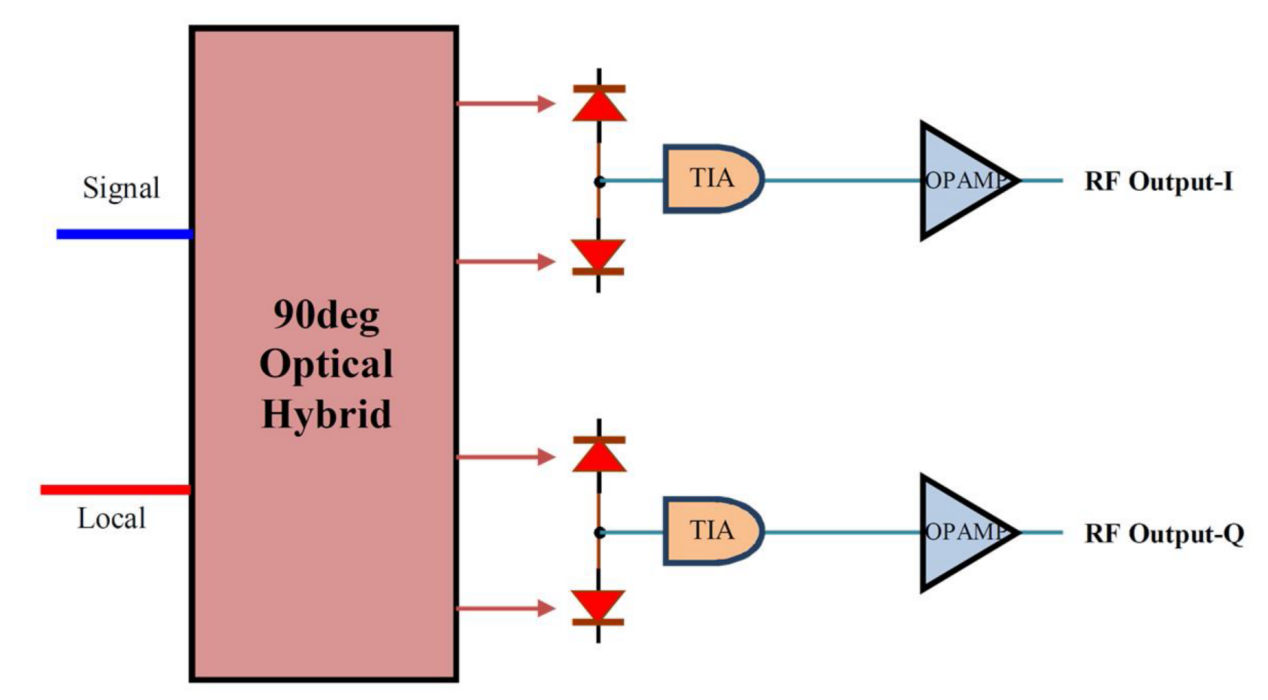 The integrated 90deg hybrid receiver has a 3dB bandwidth of about 100MHz. The RF output swing is +/-3.6V for high impedance load (±1.8 V into 50 Ω). The CMRR is better than 20dB (with a typical value of 30dB).